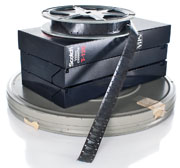 I was asked recently whether buying a device from a consumer electronics store to transfer videos 'at home' is a good idea. I had to do some research about this because we use a professional lab for our clients' video transfers. I didn't expect to learn that the 'DIY' devices can produce not only grainy and hazy results but also can break some tapes! Since tapes degrade in quality with age anyway, your best bet is to transfer them to DVD with a professional.
Located at 1515 Hope Street in Stamford, CT, we specialize in creating customized video tributes and photo montage slideshows, video biographies and photo books locally, throughout Fairfield County and the US.
Arline Melzer is a film producer with a passion to help ​professionals tell their story, and to help generations preserve and celebrate the times of their lives.