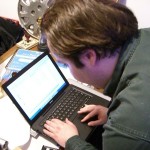 …I believe it's always personal, even if it's business.
Why?
Have you even sent an email with questions you need answered for business matter, only to get just some of them answered? Have you ever sent an urgent email that requires an immediate response in order to meet a deadline? What do you do when you don't get an answer? Send more emails?
I'm very interested, so please tell me, do you ever just pick up the phone or walk to your colleague's office to ask the question? Do you find that person on the phone or down the hall more receptive and responsive? My experience is that is nearly always makes whatever your are doing less frustrating when you are interacting with a person in real time…
… because it's personal.
I'm not denying that technology and media are very important to communicate and conduct business, but like many of us, I get so comfortable in being social with social media, that I might not put enough emphasis on being social face to face.
Ekaterina Walter's article about the best social network might surprise you:
Best Social Network Ever – A Table And Two Chairs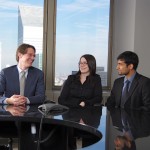 Please comment, tweet and share your thoughts about your social media and your best social network.
Arline Melzer is a film producer with a passion to help small businesses with their online video presence, and to help generations preserve and celebrate the times of their lives.