"I have old photos and videos somewhere…"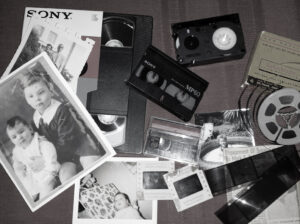 Have you ever said that? Do you ever say that 'someday' you really have to go through your old photos? Do you have old movies and don't even know what's recorded on them?
If you are a baby boomer, the answer is probably 'yes.' You might even have old scrapbooks, newspaper clippings and other memories that are fading every year.
You might want to 'organize' everything, but where do you start? Do you just scan and transfer everything?
For videos, especially if you can't view them anymore, the answer is yes! Transfering reels, tapes, cassettes, and DVDs to files make it easy to view from a flash drive. You can then also share them privately online with friends and family!
For photos, my best advice is to think about how you'd like to preserve them. An end goal, such as creating a digital photo book or photo montage video, helps focus what photos you want to digitize. You might want to scan the oldest photos for a digital photo book or video, but save duplicate prints to hand down to others. Sometimes deciding to do a family history with photos encourages others in the family to find their old photos, too. And this often sparks sharing stories and photos many never knew!
If your photos are mostly digital, then organizing them by year, then month and day is a great way to start to organize them, to create photo books or just for viewing.
Would you like a digital photo book?
There are many options for the design and print quality, but photo books are a great way to preserve and share a book with each member of your family. Newer digital photos can be included as well.
Would you like to create a video life story?
Old and new photos, music, captions and old movies can be woven into a feature film type of video. If you've ever seen a Ken Burns documentary, that style can also be used for your story. What greater legacy is there than the story of your family's journey?
Would you like to honor a family member to celebrate a special moment in their lives?
70th birthday? 50th anniversary? High School Graduation? About-to-be-married? Bar/Bat Mitzvah?
-How do you get started?
-Start one project at a time. For example, a milestone birthday celebration is a great time to create a video tribute or a life photo book. These are truly the gifts of a lifetime.
-Sometimes when you become empty-nesters is the best time to look back and savor the best moments.
-For others, having an aging parent brings to focus the right time to look back and find, preserve and share memories about the important people and moments in your and their lives.
Tips: Interviews are also a wonderful way to make all of your memories come to life.
-Think about recording an interview with the aging parent with open-ended questions, such as
-Tell me about….
-What do you remember about….
-Enlist a grandchild to make up the questions and even conduct the interview.
Creating books or videos for special milestones, or about special occasions is a great way to start saving, celebrating and sharing priceless memories. I hope you enjoy savoring every moment!
Please contact us at 203-329-2638 or

[email protected]
Located in Stamford, CT, we specialize in Found Memories Videos, Life Story Photo Montage Videos and Premium Legacy Photo Books. Our clients are in Stamford, Greenwich, Westport, Norwalk, Fairfield and Westchester Counties as well as throughout the U.S.
Found Memories & Life Stories by PICTURE PERFECTIONS
LinkedIn Profile
Arline Melzer is a film producer with a passion to help generations preserve and celebrate the times of their lives.