I found this article from Michelle Nahom had some good ideas to keep your photos for a lifetime…
From Shoebox to Album – Organizing a lifetime of photos
Organizing photos by themes is one good way to start.
Another is by year, then by family member, then theme. This way, you have a ready grouping of special photos to create special memories for any family member's milestone birthday or anniversary.
And let's not forget digital photos that might be on computers, facebook and one or many online photo sites. Is there a good way to bring everything together in one place?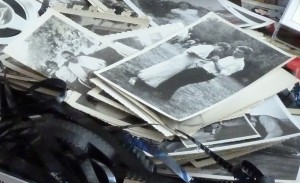 I recommend creating a digital library so you'll have all of the wonderful family memories to share from one generation to the next. And I suggest copying all of the memories to a portable hard drive, with a 2nd as backup. Once you have your library of photos and videos, the stories that can be created in photo books and videos are priceless.
Arline Melzer is a film producer with a passion to help small businesses with their online video presence, and to help generations preserve and celebrate the times of their lives.