You are not alone.
I often hear that no one knows what's on their old films and tapes. If that sounds familiar, it's really time to get films and tapes transferred directly to DVD. Tapes especially deteriorate every year, so waiting can actually harm them. Just be sure to chose a professional to transfer your home movies.
I entrust our clients' tapes to trusted professionals I have used for my own personal transfers. They check tapes so do not charge for blank tapes or tapes with tv shows! Just think of what great gifts these DVDs will be. For more on video transfers: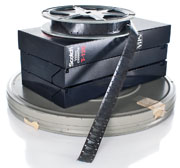 Arline Melzer is a film producer and video editor. She helps small businesses with their online video presence, and helps generations preserve and celebrate the times of their lives.