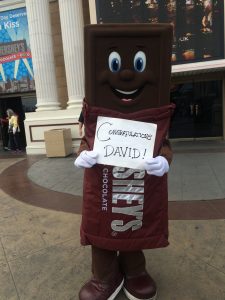 Video Tributes can be the greatest, most touching gifts. Check out this totally new way of creating one!
Ask friends, family and acquaintances from your loved one's lifetime to send their own photo of themselves holding a sign honoring your loved one!
A wonderful dentist, Dr. Maryann Lehmann, came to me with this unique idea for a video for her son's college graduation party that included, for starters…
his former teachers
cafeteria workers
coaches and babysitters!
each holding a sign saying 'Congratulations, David!'
She asked all of her their family send photos (and some video) of themselves with the sign at places they had been to with David. She also asked people at Comic Con, wearing his favorite characters costumes, to hold up sign! And some characters on the New York City streets!
She then took pictures at a quiz show with the sign, of vacation-spot musicians and staff with the sign and even took photos of stars from his favorite professional sports team holding up the sign! And, of course, David's friends joined in as well. Dr. Lehmann also contacted David's fellow summer-job workers, his doctors and teammates and she was surprised how immediately willing they all were. Even celebrities were happy to have their picture taken with the sign!
The end result is surprising, touching, comical and entertaining! She said the more photos she got the more ideas she had. I could tell she had a blast reaching out to all of Davids contacts and it was delightful creating such a fun video with her. Hope this gives you ideas for your next life celebration!
Please get in touch, share on facebook or comment below with your thoughts or other slideshow ideas!
Located at 1515 Hope Street in Stamford, CT, we specialize in creating customized video life stories and slideshow tributes throughout Fairfield County, CT and the US.
Arline Melzer is a film producer with a passion to help generations preserve and celebrate the times of their lives.