This truly was the best birthday celebration ever!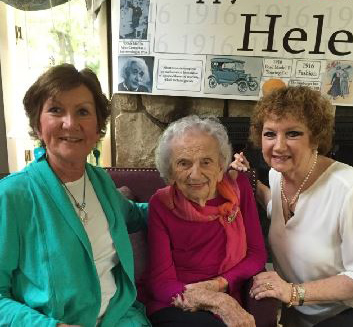 I was lucky to know the birthday 'girl' and her family for many, many years.
Why was it the best birthday celebration ever?
It was her excitement about her birthday all year long.
Did I mention she was turning 100?
The inspiring celebration started for me a year ago when I decided to make a video of her life for her 99th birthday. The year before, her husband of over 65 years passed away, and it was understandably a terribly sad time in her life. So I decided to have a small party for her 99th birthday and show the video life story that I created with music and photos from many wonderful moments in her life.
She loved it! Afterwards she asked various members of her family to watch the video with her, many times, pausing to talk about each of their memories' of the most important people and moments in their lives. Her family told me these recollections helped change how she was felt about the sameness of her daily life. She started to really enjoy every day of her special 100th year ahead.
She had two beautiful birthday celebrations. First, was a wonderful trip with her family and then there was the most wonderful birthday party ever on her 100th birthday. Friends and family came from near and far to celebrate her. Her family also showed this life celebration video at her party. At the end of the video, we see the secret to her outlook on her extraordinary life. She has definitely inspired me!