If you lost your memories, where would you look?
The movie, "50 First Dates' provides a great clue. What if, for someone you love whose memories are lost, you could help them every day by telling them that you love them, they are in your thoughts, and wonderful people will be caring for them? Imagine them starting each day feeling cherished and less confused. Found Memories are the voices and photos of loved ones, and the favorite music that stays with them, in their heart. The 'Found Memories Project' focuses not only on bringing comfort to Alzheimers or Dementia patients, but also involves the whole family in celebrating life's happiest moments.
So what does the movie, '50 First Dates' have to do with found memories? In '50 First Dates,' Drew Barrymore's character wakes up every day with memory loss. So, by the end of the movie, her husband reminds her every morning to play a video about how she met him, how they fell in love and that they now have a beautiful daughter. With this in mind, a director of social services at a Riverdale, NY facility came up with the idea to start showing similar videos to Alzheimer's and Dementia patients, upon awakening. In some, the video greetings even answer questions, such as: Where am I? Where is my family? Who is taking care of me? The results of showing the videos are very positive.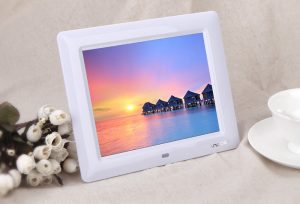 Video Picture Frame
Click here to see one son did for his mom's memory loss.
How do you make Found Memories? Essentially you begin with a video greeting to your loved one, that assures them they are loved and cared for. You can also include your loved ones' favorite music, pictures, family stories and even home movies of happy and special moments. Since everyone's found memories are different, you can determine what is best. For example, one 'Found Memories Project' includes 'Google Earth' photos, with audio messages and photos from relatives in various locations in the US and Europe. Another includes all of the family pet photos, with favorite music in the background as well as the telling of funny stories about the pets.
When your Found Memories Project is complete, you will have a personal and loving video to start your loved one's day, and often photos and stories that the entire family will enjoy for years to come.
If you would more information about creating your own 'Found Memories' video, please contact us at 203-329-2638 or [email protected]
Located at 1515 Hope Street in Stamford, CT, we specialize in creating customized video tributes and photo montage slideshows, video biographies and photo books locally, throughout Fairfield County and the US.
Arline Melzer is a film producer with a passion to help ​professionals tell their story, and to help generations preserve and celebrate the times of their lives.